Dental Implants – Lincoln, NE
The Next Best Thing To Real Teeth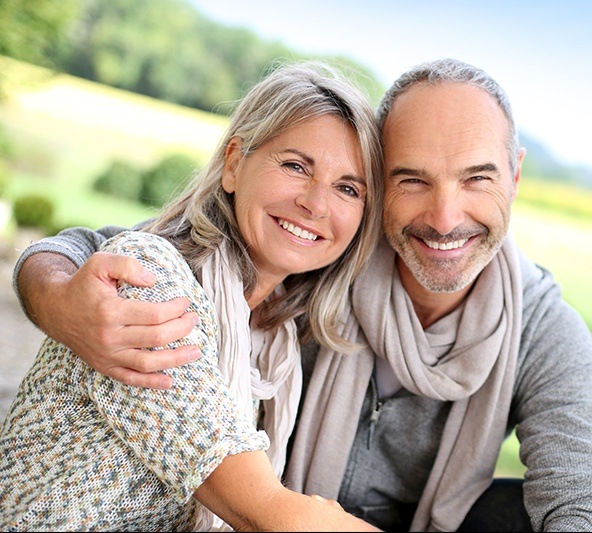 Missing teeth are one of the most serious problems Dr. Zieg treats every day, but thankfully, he's able to offer a treatment that provides a true solution to this common issue: dental implants. Strong, reliable, and unbelievably natural-looking, implants help patients reclaim more than just their teeth—they bring back the confidence in someone's smile as well. No matter how many teeth you might be missing, implants can help, and you can learn more about how they work by giving us a call today.
Why Choose David C. Zieg, DDS for Dental Implants?
All restorations made in our on-site lab
Partnered with the best oral surgeons in Lincoln
30+ years of experience rebuilding Lincoln smiles
Benefits of Dental implants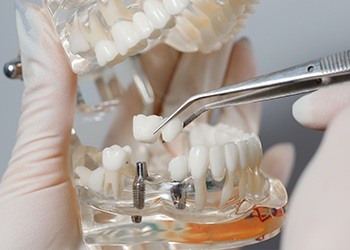 Complete Solution: Dental implants use a small titanium post placed into the jawbone to recreate the root structure of a lost tooth, and this is then used to support the replacement teeth. This gives them a security that allows a patient to eat whatever they want without having to worry about embarrassing slippage.
Natural Appearance: Our dental implants are topped by 100% porcelain restorations that Dr. Zieg makes himself, ensuring a lifelike appearance that blends seamlessly into the smile.
High Success Rate: Implants sport an impressive 95-98% success rate.
Easy Maintenance: You can keep your implants looking like new simply by taking care of them just like your natural teeth.
Bone Retention: Dental implants help maintain the jawbone by stimulating renewed blood flow to the area after tooth loss, preserving a patient's facial shape in the process.
Longevity: With the proper care, a dental implant can often last for 30 years or more.
Indications for Dental Implants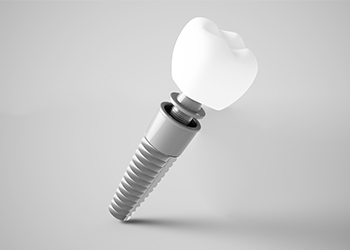 One of the best parts about dental implants is that they are so versatile. Depending on a patient's unique situation, they can be used to replace any number of teeth:

Missing Single Tooth
Once in the jawbone, a dental implant root can be attached to an all-porcelain crown to close a lone gap in the smile. This is a more conservative solution versus a traditional bridge because the neighboring teeth don't have to be altered in any way to accommodate the prosthetic.

Missing Multiple Teeth
Multiple dental implants can anchor a partial denture to the jaw, or just two implants can support a bridge that replaces up to 3 teeth in a row. Compared to traditional dental prosthetics, implant-retained ones have a better hold, more realistic appearance, and can be trusted to last longer.

Missing All Teeth
For patients missing an entire row of teeth, a full denture only needs 4 to 6 implants to be secured within the mouth. These prosthetics have a stability and durability a traditional removable denture can't even get close to matching, plus they are smaller and allow for more room in the mouth as well.
How Dental Implants Work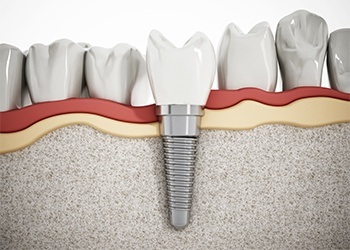 The dental implant procedure involves two main phases: placement and restoration. To place the new roots within the jawbone, Dr. Zieg will refer a patient to one of his trusted local oral surgeons who have each performed the treatment countless times. Once a patient's mouth has healed, they'll return to Dr. Zieg to have their new custom-made teeth attached to their implants using an abutment (he can make both himself during a single appointment to save time).
Understanding the Cost of Dental Implants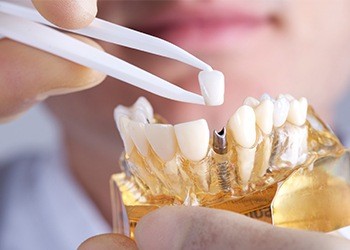 Because dental implants can be used in so many different ways, there isn't a fixed price for the treatment, and it will vary depending on each patient's particular needs. Dental implants do tend to be more expensive compared to traditional bridges and dentures, but they are an investment that can be trusted to last for decades. Implant patients won't need to replace their new teeth multiple times like with regular prosthetics that typically need to be redone about every 5 to 7 years.